Aligning your recruiting with candidates' needs
It's no secret: we are living through a recruiting crisis.
Spurred by the pandemic, employees have left their previous jobs in droves, with 59% of organizations reporting increased turnover since the start of 2020. Fresh job seekers are prioritizing remote flexibility, better benefits, commitment to Diversity, Equity and Inclusion (DEI), and salary negotiation. Meanwhile, global talent shortages are at a 15-year all-time high, and over 1 in 3 employers report difficulties in filling positions.
Recruiters are caught in the middle: struggling to balance employer demands with candidate expectations.
Even with full economic recovery in sight and a hiring surge on the horizon, 47% of recruiters report a lack of qualified candidates and an abundance of open positions—resulting in a candidate's market. That means candidates have the power to choose employers that align with their values and offer all the perks and benefits they are looking for.
But this is not a bad thing. In fact, this leaves the recruiting world rife with opportunity. The focus now is not just on filling roles to satisfy market quotas, but on fulfilling the needs of both employers and employees. A candidate's market means rethinking our recruiting methods and putting the candidate first.
So how do we do that? Here we review the unique recruiting trends that arose from the pandemic, and our 7 secrets to successful recruiting for 2022.
Let's get into it!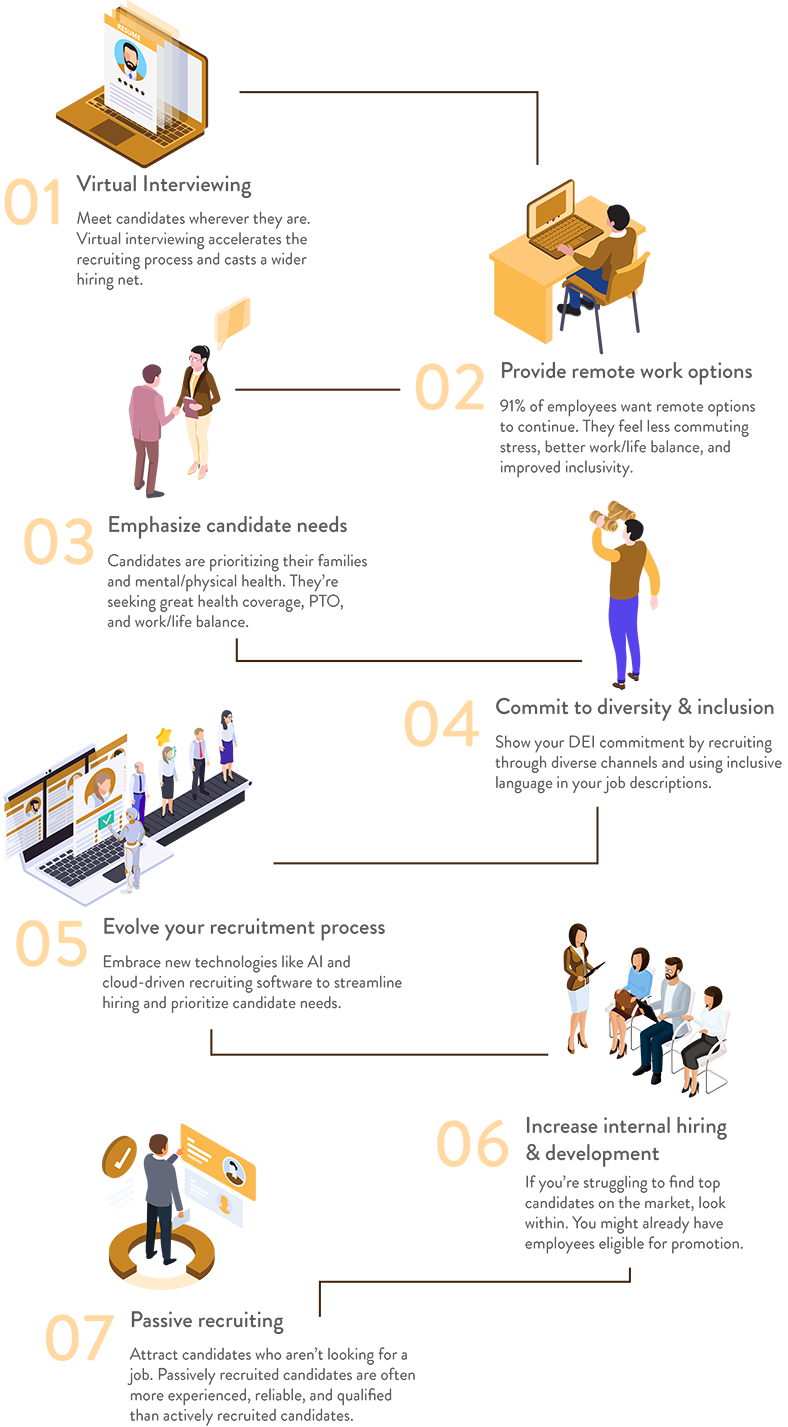 1) Virtual interviewing.
With social distancing orders at the forefront of workplace interactions, companies got used to conducting virtual interviews and Zoom meetings. This has extended into 2021 and experts suggest that it will continue into 2022.
Of course, there are pros and cons with the practice. Virtual interviewing can accelerate the entire hiring process, and make it possible for major stakeholders to attend the interview from wherever they are in the world. At the same time, it can be harder to hire for customer-facing or senior leadership positions, which require an understanding of a candidate's interpersonal skills.
But overall, virtual interviewing is here to stay. For businesses looking to grow, it's easier and more efficient to at least start the interview process virtually. It also expands your company's search parameters, allowing access to a wider range of remote or out-of-state candidates. Moreover, it grants candidates greater flexibility and more access to jobs that may have previously been inaccessible to them, increasing the possibility for hire.
2) Providing remote work options.
As COVID restrictions have lessened, many companies are giving employees the choice of whether they want to return to the office or not. According to Gallup, 91% of employees currently working at least some hours remote would like their remote work to continue. Of that number, 54% of employees favor a hybrid model, while 37% would like to work from home exclusively. Only 9% wish for a full return to the office.
Employees are finding better work-life balance, less commute stress, and improved inclusivity. Employers are discovering the benefits as well as the challenges of at-home work—including communication, time management, and security. There are many considerations to take into account when planning a recruitment strategy—but there's no doubt that remote work will be a reigning factor in 2022 hiring.
3) Emphasizing candidate needs.
The pandemic has changed the way we think about work and what matters most in our personal and professional lives. Candidates are prioritizing their families and mental/physical health, and will not settle for employers that offer low quality benefits or poor work-life balance.
Not surprisingly, candidates are drawn to companies with benefits that emphasize their needs, such as PTO, a healthy work culture, salary negotiation, and mental health services. In fact, 51% of recruiters report that good medical/dental coverage has been a vital deciding factor for candidates, while 44% confirm that work from home flexibility has been a major component to attracting new hires.
4) Demonstrating commitment to diversity and inclusion.
Diversity and inclusion will continue to be an important deciding factor in the recruiting process. This year, 49% of recruiters reported that candidates are inquiring about employers' commitments to DEI, up from 33% in 2020. Many candidates will judge a business based on its commitment to diversity and inclusion, and may decide to turn down an offer if company leaders cannot effectively communicate and demonstrate their commitment.
In recruiting, this can be made visible by using inclusive language in your job descriptions. Ensure that a commitment to diversity and inclusion is also included in leadership job descriptions, and that leaders are held accountable once onboarded.
Also make sure your organization recruits using diverse channels—including diversity groups, colleges, conferences, and job boards. Remove unnecessary barriers to entry—like specialized degrees or certifications—and look out for other promising attributes, like resilience, eagerness to learn, and adaptability.
5) Evolving your recruitment process.
In response to the pandemic, recruiters have had to redevelop and transform their recruiting practices. With the increase in remote work, recruiting often entails scouting candidates in various locations across the country, a strong commitment to diversity and inclusion, and understanding constantly evolving HR strategies.
The recruitment process must now involve a new range of skills and technologies that answer to candidate priorities and meet company needs. This means evolving with the times, and embracing new technologies—including artificial intelligence and cloud-driven recruiting software—to optimize their potential and stay ahead of the competition. 2022 means it's time to get tech-savvy with your recruiting.
6) Increased internal hiring and development.
Recruiters answered the uncertainty of the pandemic by hiring within. The reasons are numerous: employees found themselves taking on new responsibilities, changing positions, and learning new skill sets. With this unexpected (and sometimes challenging) professional development came more opportunities for growth, and employees found themselves eligible for promotion. Recruiters are emphasizing internal hiring for companies that are struggling to find qualified candidates on the market.
7) Passive Recruiting—What is it?
Active recruiting means posting jobs and waiting for searching candidates to respond. This is a recruitment method that all hiring managers are familiar with. But what if there was a more effective strategy that not only reduced turnover but also promised greater employee retention?
Passive recruiting means attracting candidates who aren't necessarily searching for a job. When a passive candidate approaches your hiring team with interest in the position, that means they have already been weighing their options and made a decision that your company is a place where they want to work.
Candidates discovered through passive recruiting are often more experienced, reliable, and qualified than candidates acquired through traditional active recruiting strategies. That's because they are already employed and tend to have strong employment records coupled with a drive to grow in their careers. As a long-term strategy, passive recruitment can a strong and durable employee base.
To get started with your all-new recruiting strategy, visit our Talent Services Page