The healthcare ecosystem has drastically changed over the past few years, especially after Covid-19. Affordable Care Act (ACA), Value-based delivery model, and telemedicine have stimulated the adoption of different payment models into healthcare practice, which has affected the amount of revenue that providers receive for services.
The growing complexities and increasing demands on healthcare providers to improve the quality of care they provide have also surged up the amount of time and administrative work required to manage patient care and revenue. As a result, many healthcare organizations are looking for ways to streamline their processes. Thus, the need for Revenue cycle management (RCM) becomes a critical aspect of the healthcare industry, as it involves the administration and coordination of all financial activities related to patient care. From the initial patient visit and insurance verification to the final billing and payment collection, effective RCM is essential for ensuring the smooth and efficient operation of healthcare organizations.

The Healthcare revenue generation process starts before the first patient-physician interaction with the collection of demographics and ends with the payment of all due claims on the patient account. It is crucial to understand the process of revenue generation so that each phase can be managed efficiently to generate maximum output with less time consumption. The healthcare Revenue Cycle can be broadly divided into five phases:-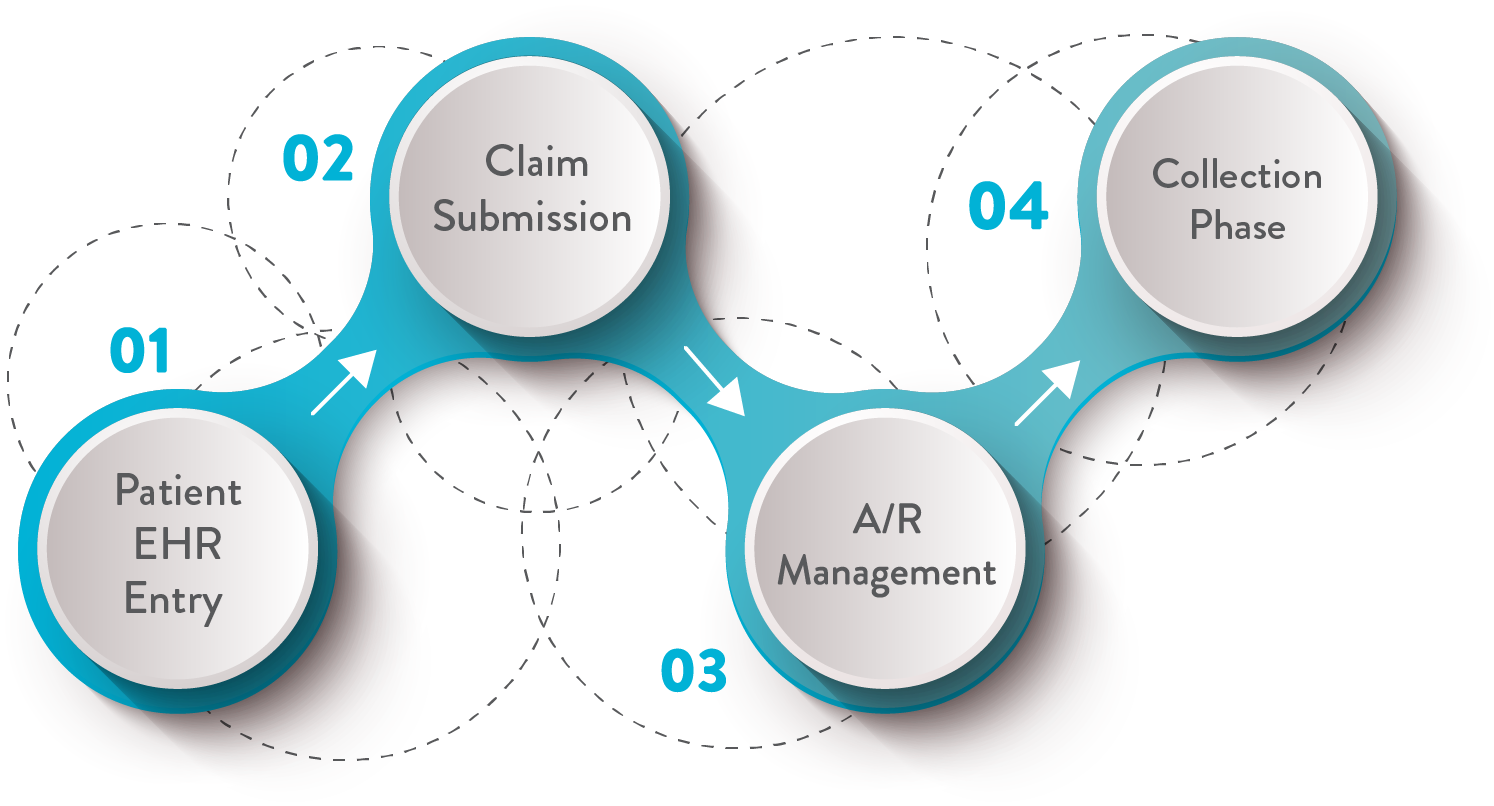 Patient EHR Entry
Patient demographics like- name, age, SSN, insurance ID, location, etc. are collected in EHR which are specific to each payer. Verification of insurance coverage validity and payer pre-authorization also comes under this stage. Real-time insurance verification and customize online demographic collection are some of the time-saving features of EHR. Finally, this stage concludes with the appointment being scheduled. The embedded PDMP (Prescription Drug Monitoring Program) link in EHR is also a great tool while writing prescriptions as it offers the patient's medication history at the touch of a fingertip.
Claim Submission
Once the appointment is finished, a bill is generated by assigning the proper treatment procedure codes (CPT codes) as well as diagnostic codes (ICD-10 codes), more widely known as medical coding. Payment against each code is already determined in the physician's payer contract. Billing occurs when this bill is submitted to the patient's insurance company to claim payment. For seamless claim reimbursement, accurate coding and billing are required.
AR Management
Accounts receivable are payments owed to you for the services already rendered. AR are liquid assets that appear on your organization's balance sheet. However, long-due AR presents a deceptive financial position of a business by being idle in the assets and not generating cash flow in the expected period to cover the organization's operating cost. Minimizing AR turnaround time is critical for meeting operational demands and presenting the true financial condition of a business. This phase also includes follow-up of denied claims, in addition to nudging the AR arrears, which is also a time-consuming process.
Collection Phase
When all the payments are made by the insurance company leaving zero balance due in the patient account, is termed as claim clearance or claim reimbursement. The clean claim submission rate is the ratio of claims cleared on the first attempt to the total number of claims submitted. This is the key target to meet at this stage.
Several custom report generation and analytical tools are salient features of RCM to analyze the management efficiency in each phase.

The RCM in healthcare is paramount to the financial stability and success of healthcare organizations. It is a vital process that helps healthcare providers navigate their revenue and expenses, allowing them to offer superior care to patients. Through implementing effective RCM practices, healthcare organizations can maximize their financial performance and optimize the care they provide to their patients.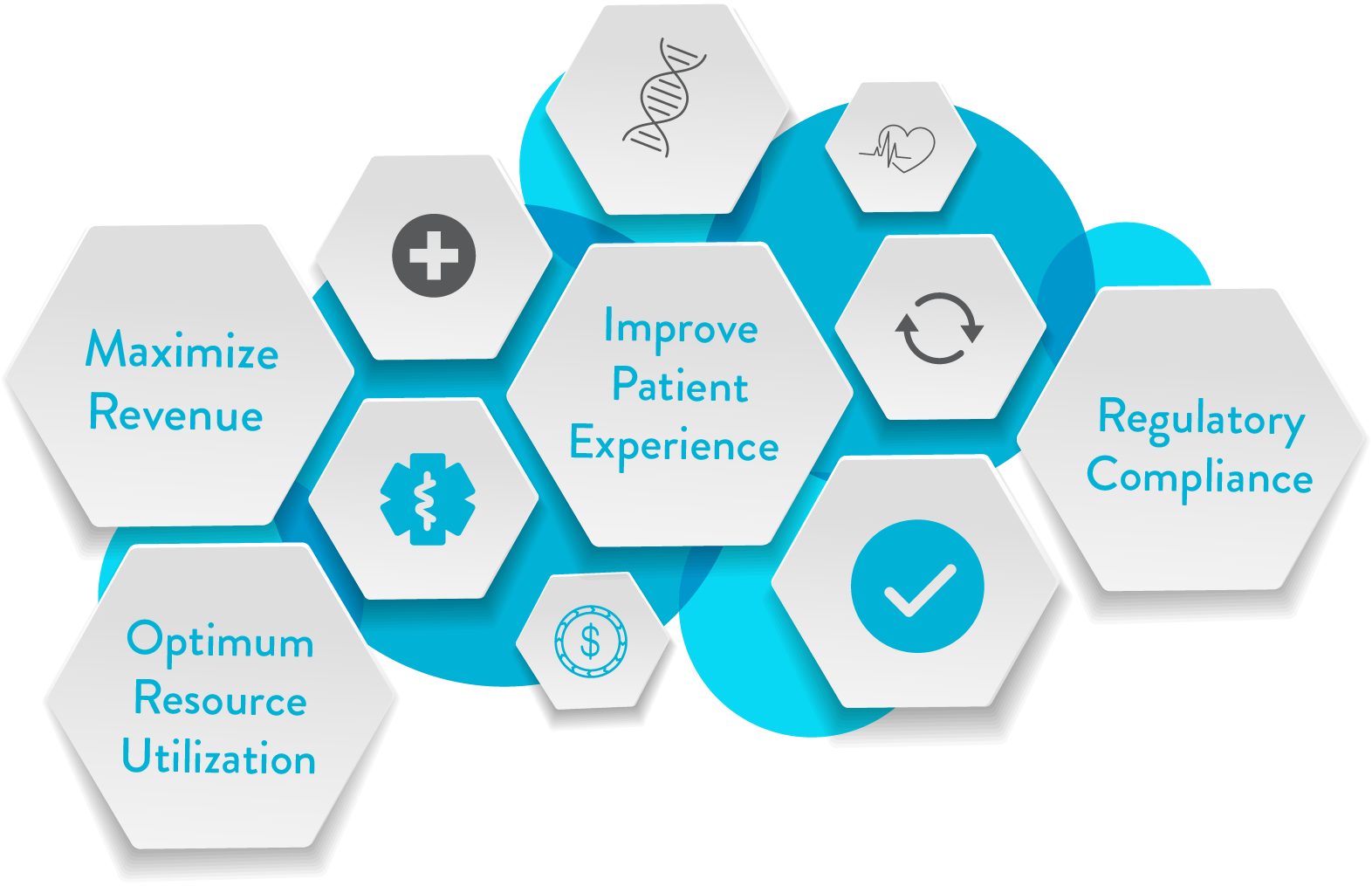 Maximize Revenue
RCM offers healthcare organizations an opportunity to unlock their financial potential. Through cutting-edge billing and payment technology, organizations can slash the time and resources poured into mundane administrative tasks, freeing up valuable resources for streamlining their account receivable process and maximizing their revenue. Thus, can focus on delivering high-quality patient care, leading to an increase in productivity and improved cash flow. Efficient RCM reduces the chances of claim rejections right at the submission phase through appropriate coding and reduces the days in AR, resulting in greater income each financial period and ultimately, higher revenue for the organization.
Improve Patient Experience
Online appointment registration and demographic form filling cuts down waiting time at the physician's office to an absolute minimum. With effortless billing and payment systems, patients feel more satisfied, and experience far less stress or frustration. This not only leads to improved patient loyalty and repeat business, but also essential for long-term success of any healthcare organization.
Regulatory Compliance
Effective RCM is also important for ensuring compliance with government regulations. The healthcare industry is heavily regulated, and it is essential for organizations to follow all relevant laws and guidelines related to billing, coding, and payment. By implementing effective RCM processes, healthcare organizations can reduce the risk of errors and non-compliance, which can save time and resources and protect the organization from potential fines or penalties.
Ultimately, flawlessly executing RCM is an absolute necessity for healthcare organizations to thrive and survive. The value of stellar RCM cannot be overstated: it maximizes revenues, elevates the patient experience, and ensures strict adherence to government regulations. Healthcare organizations which invest in RCM practices and technologies will experience long-term success and constant growth.
Delegate your revenue cycle management to Cosentus where a dedicated team of specialized professionals for each RCM Phase- from demographics collection, coding, billing, and AR handling, to denial management, has a proven and consistent record of 98-99% collection rate. To know more in detail about our bundled and cost-saving MedXP services visit us @ https://cosentus.com/ or contact:- (877) 266-9040