Financial losses loom large for physicians across the country due to costly oversights in their billing for evaluation and management (E&M) codes. The monetary differences between the visit levels and respective charges are high causing a significant loss, especially for independent and small practices. To avoid these costly oversights, it is important to be aware of recent changes in the E/M visit reporting. AMA has issued CPT Guidelines for E/M Code changes effective from Jan 2023 introducing several new components to the way E/M visits are coded, including consideration of the Medical decision-making (MDM) and the time factor, which allows leveling E&M level along with prolonged service reporting. 2021's Social determinants of health (SDOH) are still operative in E/M coding. It is imperative to understand these new components in order to accurately report visits and prevent potential costly financial losses.
Medical Decision-Making in E&M
One of the most common billing mistakes is the inability to document the complexity of the patient's case. When this crucial factor is not accurately reflected in the coding, the service provided is not adequately compensated. Equally damaging is the lack of documentation concerning elements of patient history and physical exams, which can also lead to reduced payment for services rendered.
Medical decision-making (MDM) is an activity to make decisions based on levels of complexity. MDM is a decision-support methodology that provides a systematic way of organizing, processing, and recording clinical information vital to improved healthcare delivery. MDM captures and analyzes vital signs, history, and physical examination data with clinical assessment findings during patient encounters or on separate evaluation and management consults.
MDM is based on a three-tier structure consisting of – i. Problem identification, ii. Data (test) review, and iii. Risk of complications. To determine the appropriate E&M visit, two out of three elements must match the same level. Level-II visit involves straightforward MDM and Level-III visit contain low-complexity MDM with a problem-focused exam of the affected body area plus one symptomatic related area. The applicable code for a level-II visit is 99212 which earns around $37.14, while level-III visit code 99213 fetches around $59.50, making a huge difference in your monthly revenue. When you apply level II even if you are eligible to use level III, you are actually leaving money on the table. You can use the table below to determine the correct E/M code:-

Selection in the above highlighted example: The appropriate MDM level would be moderate, as two of the three elements of medical decision-making were met in that category.
Time Grid
MDM grid has also embraced the time factor to help identify appropriate E/M visit levels. Time is not only used to determine the E/M visit level, but it also plays a role in determining if a service should be considered prolonged or not. Physician or other qualified health care professional time includes the following activities:
Prepping to see the patient (e.g., review of tests)
Obtaining and/or reviewing a patient history
Conducting and evaluating medical examination
Counselling and educating the patient/family/caregiver
Ordering medications, tests, or procedures
Referring to and communicating with other health care professionals (when not separately reported)
Documenting clinical information in the electronic or other health records
Independently interpreting results (not separately reported) and communicating results to the patient/family/caregiver
Care coordination (not separately reported
Note:- Travel time cannot be included.
By understanding how time plays a role in coding for an E/M visit, physicians can ensure that
they are accurately billing for their services.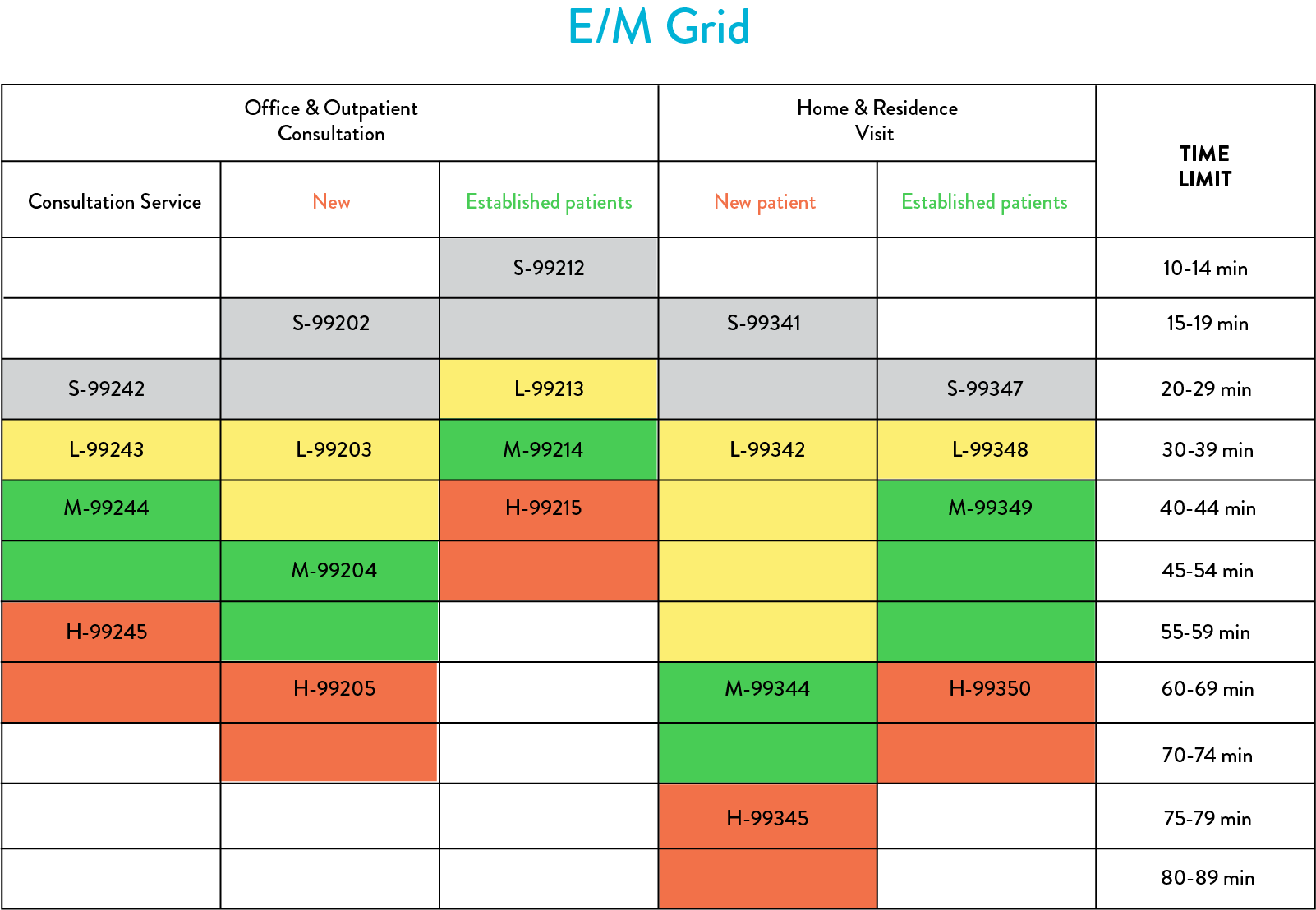 Office and other outpatient sites including home (private residence, temporary lodging, or short-term accommodation), residence (assisted living facility or group home), and emergency department also.
*Please follow CPT guidelines and CMS Guidelines for further code consultation.
Note :-Code 99241, 99340 & 99343 has been deleted.
Prolonged Service Code
In order to bill for services beyond the allocated time in the above table, specific codes have been designated. The AMA uses the lowest value of time as a reference, while the CMS use the highest value of time as a reference. Thus, CPT code 99417 was created for AMA and distinct HCPCS codes G2212 and G0318 were formed for CMS. Consultation codes are not accepted in CMS. Additionally, AMA only considers the length of time spent on the date of the service, while CMS considers 3 days prior or 7 days after the service.

Social Determinants of Health
Social determinants of health (SDOH) like- availability of resources, job opportunities, exposure to violence, extreme poverty, and financial insecurity limit the diagnosis and treatment procedure. Including SDOH (code Z55-Z65) as a secondary diagnosis is helpful to accurately present the patient's condition and altered treatment plan to insurance companies.
Understanding the nuances of E/M coding is essential for physicians to accurately bill for services rendered and to ensure they receive fair compensation for their hard work. If this seems too arduous and byzantine, book a call with our expert to take the load off your shoulders.