Cash flow is the lifeline of any business, and an independent medical practice is no different. As a practice owner or administrator, the best way you can ensure consistent and increasing cashflow is by preventing your revenue from being locked in denials. Management of denied claims is important and will remain so, but the main focus needs to shift from management to prevention. The benefits of this shift are immense but so are the challenges of eliminating the traditional retroactive approach.
According to industry sources, 90% of all claims denials can be prevented. However, for this preventive mechanism to work and deliver optimal results, all departments in the revenue cycle need to collaborate and work cohesively. Once you have seamless & effective practices implemented throughout processes such as patient access to claims submission, you will reduce your future denial rate by 50-60% and enjoy sustained cashflow.
In this article, you will learn the 4 critical steps required to implement preventive denial management.
Current Situation and Goal
As step #1, you need to assess your current situation with denials by calculating your current denial rate. This is just a preliminary study and it is not problematic if the results look poor at this stage, because this is simply an image of what you want to prevent from happening in the future. You need to involve different departments and team members and encourage them to be transparent when communicating the issues that are resulting in denial. Pointing fingers can be counterproductive as this will discourage people from opening up about existing issues, and therefore you will not be able to tackle them or prevent them from occurring in the future.
Once you have assessed the current situation, you can set your goals effectively. These goals can be in phases and/or one phase, but they have to be realistic. Communication and collaboration between departments is the key to meeting your goals. 
Know Your Denials
There are lists available that discuss the most common denials in the industry. However, it is critical for you to understand your own practice's data independently. Therefore, step #2 is to put together a list of all denials from a specific quarter and begin analyzing this data to understand the following:
What are my top

denials

?

What caused a

specific

type

of

denial

?

How can I prevent this denial

from

oc

c

urring

in

future

?

Which process needs to be changed

?

Are certain payers denying more than

others

?
After completing this initial analysis of the denials, you will need user-friendly reports to further assess and share with the team/stakeholders. You will need to pick apart the data and make it meaningful for further action.
The accuracy of this data analysis is very important for the success of this approach, so make sure that the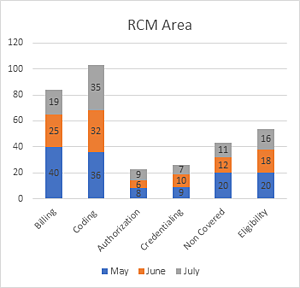 data itself is relevant and accurate. There are no fixed ways of conducting this analysis– you can have as many parameters as needed with the end objective being to discover the root cause of the denial and start working on future prevention.
Training and Process Optimization
After thoroughly familiarizing yourself with and completing step #2, you now know what areas of your revenue cycle need to be fine–tuned in order to eliminate specific types of denials. You should now be able to answer the following question:
What is the cause of this type of denial?
Potential answers may be:
Lack of knowledge

Technological deficiency

Process gaps
Now that the root cause is identified, you can focus on implementing tactics to get the positive results. Well-trained and educated staff, clearer and more effective communication amongst departments, and clearly identified goals are the keys to making these improvements.
Measure and Monitor Results
In step #1, you had your current situation assessed and recorded. Now, measure the improvements after implementing steps #2 & 3, and compare these to your goals. This comparison has to be conducted very carefully and should be centered around the following areas:
Is the overall goal being

met

?
Did a

specific type of denial

decrease or disappear

?

Are all the RCM areas

optimized

?

Is there further

room

for improvement

?
Even if all the goals are met, you will need to continue monitoring the progress for sustained results.
Key Takeaway
Many practices are aware of the impact that denials can have on their revenue, however they lack the technology and staff–expertise to implement an effective denial management and prevention program. Outsourcing to a billing partner like Cosentus, who has the technology and domain expertise available to optimize your revenue cycle and boost collections by preventing denials, is a sustainable and profitable solution. If you are unsure of how your practice is performing and need help making an assessment, we offer a free, zero obligation AR and Coding Audit.